Award-winning garden design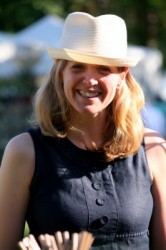 With a British horticultural qualification from the RHS I have been working as a Garden Designer in the greater Geneva area since 2004. As a native English speaker I have many years experience also working in French.
Winner of the Concours Laurent Perrier Prix du Jury in 2009, I bring the best of British design to your doorstep.
I believe in combining my passion and pragmatism to help you make the most of your outdoor space. From the initial concept work through to the finished garden, I'm with you every step of the way.
Do you have a new garden and you're not sure where to start? Perhaps you have an established garden but you're nervous of making radical changes on your own? Or maybe you are renting and want to improve the garden? Then get in touch!
CONTACT
HM Garden Design
120 Route de Villars Dame, Versonnex
France 01210
Tel: +33 450 42 48 75
hester@hmgardendesign.com
Bienvenue à nos lecteurs francophones.  Je suis architecte paysagiste, formée en Angleterre, et réside dans la région lémanique depuis 2004.
Lauréate du Prix du Jury Concours Laurent-Perrier 2009, je vous apporte le meilleur du design britannique aux portes de Genève.
Combinant passion et pragmatisme, HM Garden Design vous aide à optimiser vos espaces extérieures. Depuis les premiers dessins en avant-projet, HM Garden Design sera à vos côtes durant toute la durée d'étude, jusqu'à la réalisation et d'exécution du jardin.
Avez-vous recemment acheté une maison avec jardin, et vous n'êtes pas sûr savoir quoi faire?
Est-ce que votre jardin est déjà établi, mais vous êtes soucieux de vous lancer dans des changements radicaux tout seul?
Etes-vous locataire, mais vous désirez avoir un beau jardin?
Alors n'hésitez pas à me contacter!
Vous pouvez également écouter mes conseils sur World Radio Switzerland, lors de mon émission hebdomadaire sur le jardinage et le paysagisme: Dig It!
CONTACT
HM Garden Design
120 Route de Villars Dame, Versonnex
France 01210
Tel: +33 450 42 48 75
hester@hmgardendesign.com